Collage does not always have to use a photo frame (frame) of wood or metal. You can also just give a photo border, without needing to be framed. Like the Polaroid photos that had become a trend in the 90s. The plain white border is guaranteed to make you reminisce and remember the memories when the photo was taken. A simple way to get a special collage. It is very suitable to be installed as a decoration in your dream home. To display it, simply hang the photos using a rope that ends with tacks. Keep an eye on the collage shape that you have designed. Aside from that, if you need more aesthetic photos for your collage, you can buy some of the best aesthetic pictures to print right away.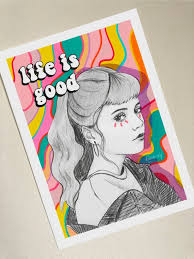 Are you confused about choosing between photo frames or polaroid photos? The combination of photo frames and polaroid photos will create an interesting mix. Not to mention the addition of beautiful collage textures and patterns. The overlap between one photo frame and another is worth trying. The point is, dare to be creative.
Then, when making a collage, you don't have to arrange it in one large photo frame arrangement. You can also create groups of small photo frames. Then put it near the wardrobe, table, mirror, or in the corner of the room. Even though you don't have many photos on display, the collage arrangement of the photo frames is still useful as a room sweetener.
Furthermore, Everyone likes stories. And you must have memorable moments that you want to share with others. Well, try to tell the moment through the decor in your home. Take a few photos and sort in chronological order the events you like the most. It could be your wedding process, the process of growing your little one into adulthood, a family vacation, or other important events.
It turns out that it's not difficult to arrange a collage with photo frames after knowing the trick? If you want to have a photo frame with a more personal touch, you can also learn how to make photo frames out of cardboard easily. Have fun decorating your room with a photo frame collage!